Dear friends:
You have already received the information for the Greeting Book and the Book of Remembrance. Please be sure to return to the office the filled forms with the payment before the end of July.
Let us now direct our attention to seating for the High Holidays. Your family membership entitles you to two (2) seats. An extra seat is $125. A single membership provides one seat. An extra pew seat is $125. Seats in the non-pew area are $100 each. Non-members may reserve a pew seat at $150.00 each.
All financial obligations MUST be fully paid before tickets will be sent to you.
Have a wonderful summer!!!
—————————————————————
—————————-
Please join us
on Saturday July 25th at 9:30 PM
for our Tisha B'Av service.
We will mark the mournful remembrance of the destruction of the Temple of Jerusalem among other tragedies in our history with the traditional candlelight chanting and recitation of Megillat Eicha, the Scroll of Lamentations

——————————————————–
Temple Beth El of Manhattan Beach
Lecture Series 4
Professor Richard Tomback
of Kingsborough Community College, CUNY
will be our guest speaker on
Friday, June 19th 2015
Subject: "What was the intellectual climate that resulted in the rise of Adolph Hitler?"
Service will begin at 7:30PM.
ALL ARE WELCOME!
An Oneg will follow.
——————————————-
Sisterhood of Temple Beth El
invites you to join us at our
Celebration of Spring Luncheon
at the Spoons Café

2923 Avenue J
(off Nostrand Avenue)
Brooklyn, New York 11210
Thursday, June 25, 2015 at Noon
Enjoy… Entertainment Good Friends! Good food! Good time for all!
Please make your contribution of $50.00 PER PERSON
payable to Sisterhood of Temple Beth El
Checks must be received no later than June 18, 2015
——————————————————–
Sisterhood / Evening Circle Presents:
Tuesday June 9th, 2015 7:30 pm
"When California Was In Argentina"
or… "The curse of Capistrano"
Presented by – Rabbi Claudio Kupchik
Spend an informative evening at Temple Beth El
ALL ARE WELCOME!
For more information please contact our office at (718) 891-3500 or our Rabbi at
——————————————-
Come and celebrate Shavuot!
The holiday commemorates the giving of the Torah at
Mt. Sinai. It also celebrates the harvest, marking
the end of the counting of the Omer.

Services will be held
on Sunday, May
24th at 9:30 AM and
on Monday, May 25th
at 9:30AM
(second day service followed by Yizkor)
——————————————————————–
The 2015 Annual Congregational Meeting and Supper will take place on Monday, June 1st at 7:00pm.
A slate of officers and trustees will be elected and installed. Nominations from the floor are also welcomed. Annual committee reports will be made. Recommendations and suggestions from the floor will be heard.
Paid-up membership for 2015-2016 is required for admission.
Please let the office know A.S.A.P. if you are attending so they can order the food.
We hope you will join us!
——————————————-
Adult Learning @ Temple Beth El
on Wednesday, April 22nd at 8:00 pm

Yom Haatzmaoot Celebration
come and Rejoice On Israel's Independence day
And Every Wednesday at 7:00 PM
Hebrew Class Beginners/Intermediate Level
Starting on April 22nd: conversational Hebrew!
——————————————-
Adult Learning @ Temple Beth El
on Wednesday, April 15th at 8:00 pm
Yom Hashoah Commemoration
Memorial ceremony and Movie screening
======================================================
Friday Night Lecture Series #3
Friday April 10th at 7:30 PM
Dr. David Marcus M.D.
Medic in the Israeli Defense Forces, received his B.A from Ben Gurion University, his M.D from Suny Downstate Medical Center and a combined Montefiore Medicare Center/Cardoza Law School certified in Bioethics. He currently teaches professionalism and medical ethics at Hofstra North Shore L.I.J School of Medicine.
"What makes a doctor schvitz"
As usual, service and lecture are followed by special kiddush
————————————————————————————
Please join us for our end of 

PASSOVER SERVICES
on Friday April 10th at 9:30 AM and 7:30 PM
and on Saturday April 11th at 9:30 AM (with Yizkor service)
Have a joyous and sweet Pesach!
 ——————————————————————————————
Please join us at our Passover Seder
Conducted by Rabbi Claudio J. Kupchik
With singing and explanations for adults and children!
Friday, April 3rd at 7:00pm
Reservations and checks made payable to Temple Beth El MUST be received before Monday, March 30th!
Contribution for Adults – $45.00
Contribution for Children – $30.00
———————————————————————————-



 TEMPLE BETH EL WANTS

YOU

!!
Every synagogue needs good leaders and that's where you come in.
We need people with energy, insight and ideas to lead us forward. Many people want to help but don't know how. Many people have great suggestions but don't know how to get them implemented. Many people just complain and don't do a thing about it…but not you! Please attend an exciting and entertaining presentation by our own HOWARD WEBER (a former shul president!) who will conduct a
LEADERSHIP TRAINING SEMINAR
TUESDAY, March 31, 2015, 7:30pm
At Temple Beth El of Manhattan Beach, 111 West End Ave., Brooklyn.
All Are Welcome—See You There!!
———————————————————-
Temple Beth El of Manhattan Beach
Lecture Series 2
Dr. Amy and Rebecca Ditchek
will report on their recent trip to Germany and Poland

"March of Hope and Remembrance"
Service will begin at 7:30PM.
All are WELCOME!
As always, a special Oneg will follow.
 —————————————————————————————————————–
Purim at Temple Beth El
————————————————————————————–
Chanukah at Temple Beth El
20th of December at 5:30 P.M.
Celebrate the Festival of Lights
Candy "gelt" and latkes to eat. Dreidels to spin and songs to sing.
Fun for ALL.  SURPRISES, too!
ALL ARE WELCOME!
——————————————————————–
Lecture Series I
Professor Richard Tombak
of Kingsborough Community College, CUNY
will be our guest speaker on
Friday, November 21, 2014
Subject: "Why Are We Hated?"
Service will begin at 7:30PM.
ALL ARE WELCOME!
As always, a special Oneg will follow.
 —————————————————————————————————————–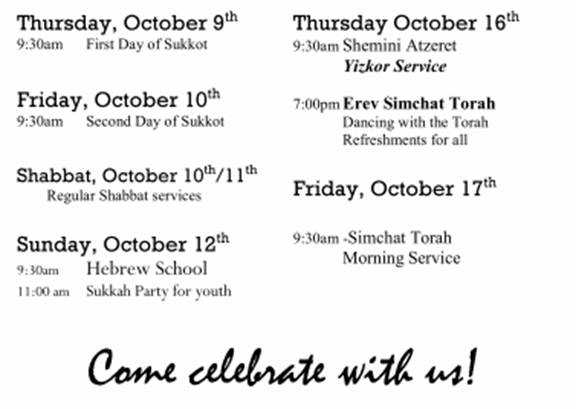 ————————————————————————————————————————————-
5775       High Holy Days      2014
Schedule of Services
Selichot
Saturday evening, September 20th 10:00pm
Rosh Hashanah
Wednesday evening, September 24th 6:30pm
Thursday morning, September 25th 9:30am
Thursday afternoon, September 25th
Tashlikh

6:00pm
Thursday evening, September 25th 7:00pm
Friday morning, September 26th 9:30am
Yom Kippur
Friday evening, October 3th Kol Nidre 6:00pm
Saturday morning, October 4th Yom Kippur 9:30am
(Yizkor)
Saturday, evening, October 4th Mincha-Neilah 4:30pm
Children are invited to line-up for Hadvalah Procession at 6:45pm
The High Holy Days Services will be held in the Main Sanctuary, except for Tashlich, which will be held near the Holocaust Memorial in Sheepshead Bay
Please contact the office to get your tickets as soon as possible!